The IMPACT: Testimonials
Hear the words of Drake, ND farmer, Myron Blumhagen:
---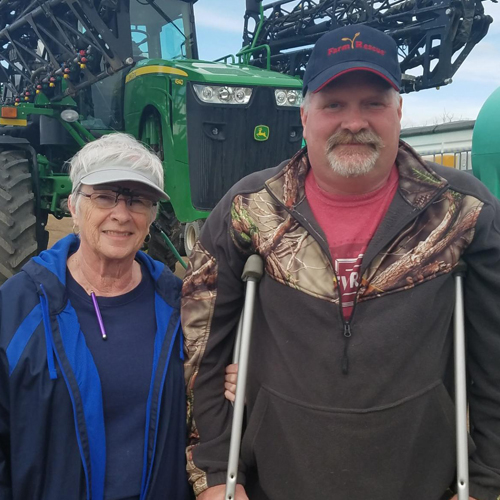 Dean Christensen - Antelope, MT
Farm Rescue gave our family farm in northeast Montana the spring planting assistance needed while my leg was broken. At the time our family was also mourning the loss of my father Gary Christensen. The Farm Rescue volunteers were very kind, considerate and understanding. And Levi Wielenga does an awesome job as team leader. Thank you all and Merry Christmas - Happy New Year.    
Sincerely, Dean Christensen
Wayne and Cindy Thompson, Max, North Dakota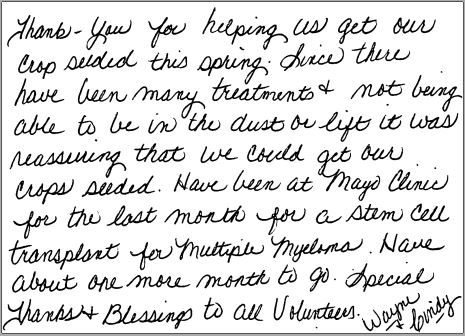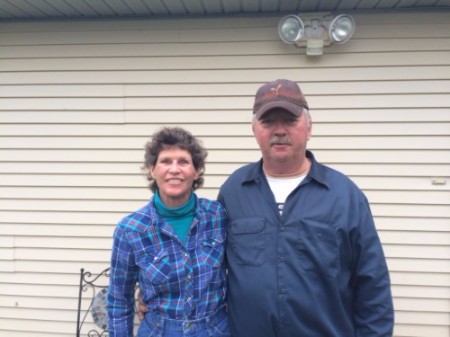 Gary and Kathrin Volochenko
Dear Farm Rescue,    
Me and Gary would like to extend our most heartfelt thanks to all of the crews both of the office and in the field. Specifically, Carol Wielenga, Warren Zakopyko, Charles Bartsch, Mike Melaas, to all of the donors, and most importantly, Bill Gross, the person who conceived the idea of helping farmers in crisis on a rather large scale, using "state-of-the-art" machinery donated by RDO Equipment Company.
        We feel very fortunate to reside in the northern mid-west where among the many other advantages, to have such an option as Farm Rescue available.  
Very Sincerely,
Gary & Kathrin Volochenko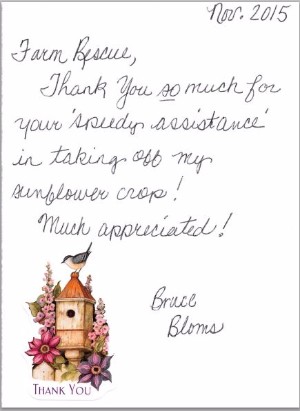 ---
Nice story hope it brings awareness to farm rescue been a 
life savor for me. A friend told me about it. It is hard 
to ask for help but they were real professional! When the 
man told me to relax and they would take care of 
everything they did. Will make a meeting someday when I 
get healed up and get home! Hope to meet the people of 
this organization and people that were at the farm. Wished 
we could have been there when the harvest was being done! 
I am very lucky in so many ways. A army of angels all for 
one man!
David Axmear, North English, IA
---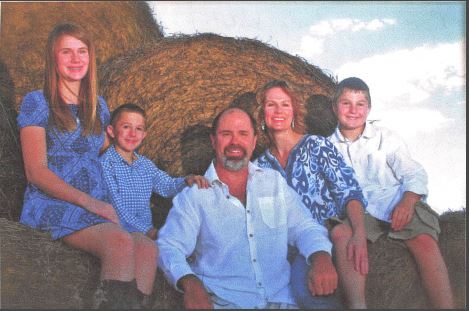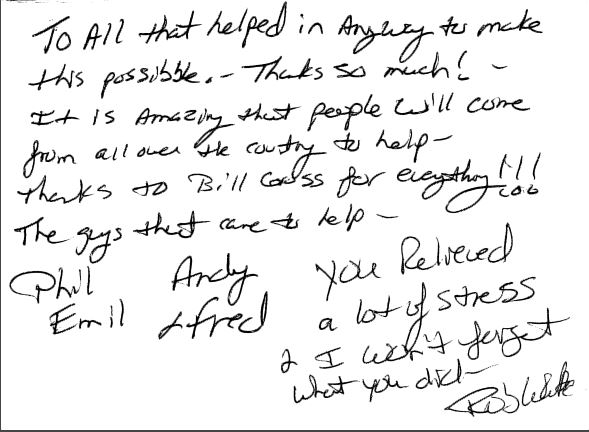 Ronald and Robin Rewald - Pettibone, ND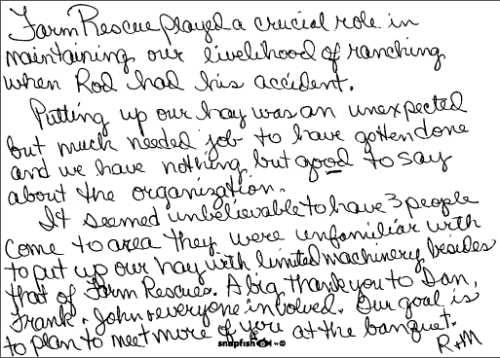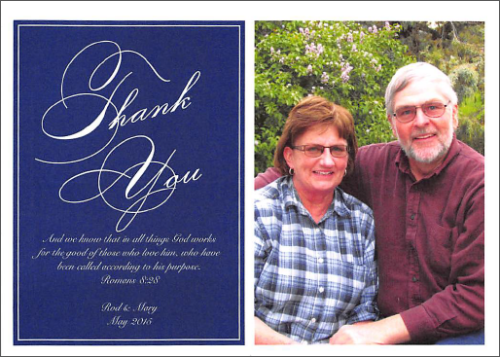 ---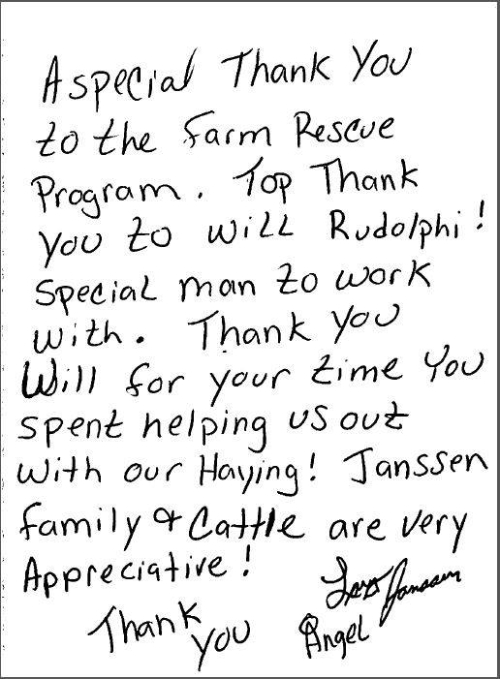 Larry and Angel Janssen of Fullerton, ND sent in a very nice thank you note to Farm Rescue for coming to their aid this summer and helping with their haying.  Volunteer Will Rudolphi helped the Janssens' bale 150 acres of hay.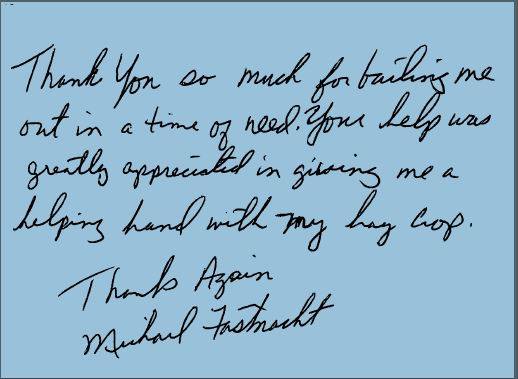 Mike Fastnacht of Wessington Springs sent in this nice thank you note to express his gratitude in having the Farm Rescue Volunteers help put up his hay this summer
Farm Rescue was contacted by Bus 52, a year-long non-profit web-series featuring five young people traveling around the United States on a converted school bus, making video interviews of people and organizations that are doing inspiring and innovative things in and for their communities. Thank you for the nice coverage BUS 52 !
"I've been fortunate in my health, and it's a good feeling to give back to somebody who may not be as fortunate." - Charlie Bartsch, volunteer
"When a four-year old whose family had been helped by Farm Rescue found out that the Farm Rescue Banquet was on her birthday, she was so excited. She could not wait to see the volunteers again. That's what this organization means to a four-year-old." -Tracie Bettenhausen, Basin Electric Cooperative
"My family wishes to thank Bill Gross for the Farm Rescue organization. Also to the sponsors and the volunteers who arrived to do the spring planting. My husband's illness happened so unexpectedly in March that it was a blessing when Farm Rescue agreed to do the planting." -Marge Fuller, 2014 Family
CNN Heroes
Bill Gross was selected as a CNN Hero in 2008. The worldwide coverage succinctly tells the story of Farm Rescue in the words of Damian & Martha Kappenman, who lost their farmstead in a tornado, and Richard Olson, who was injured in a Power Take-Off accident.
"A lady gave me a big hug and said, 'You are just angels sent from heavens'. This is the most rewarding organization that I have ever been involved with." - Ted Smith, Volunteer
We have an obligation to help those who have fallen on hard times. Farm Rescue gives us the opportunity to fulfill that responsibility." -Sherry Schaefer, Heritage Iron
"Words cannot express how grateful we are for Farm Rescue! What a neat way to pay it forward in times of need." - Bryan, Leah, & Bryan Spiel, 2014 Family
"Being able to go out and help a person in need and doing something that you thoroughly enjoy is very rewarding." -Jay Schepp, Volunteer