2018 Weekly Highlights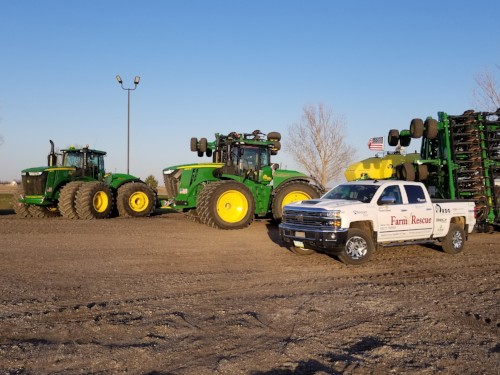 May 3, 2018 - Ready to Roll
Farm Rescue planting crews are in full motion! Volunteers, Levi and Carol Wielenga, Garry Deckert, Alan Enger, Lee Van Ruler and Kenneth Chyle got the equipment set up, decalled and ready to go last week. Crew 1 (Tom Meyer, Ken Enstrom, Jerry Burau and Rich Thuesen) is on the road today to Ryder, ND to plant small grains, and after already completing a wheat case near Long Lake, SD, Crew 2 (Kenneth Chyle and Lee Van Ruler) is now is headed for Elgin, ND.
Please be careful on the roads as there is a lot of machinery moving around, and keep the farmers in your thoughts and prayers for a safe and productive season this May!  
As always, a big thank you to our sponsors that make this possible. A special thanks goes out to RDO Equipment Company for again supplying equipment to make planting possible!  
Until next week,
Carol Wielenga, Operations Director
**Do you want to be a Farm Rescuer or Refer a Family for Assistance?  Go to farmrescue.org or call us at 701-252-2017.**